When Nintendo translated Pokémon Crystal and launched it in the west, they took Celebi out and now the only way to get it would be a promotional event.
Once again, PKMN.NET comes out tops, having a Game Shark code that allows you to get Celebi. Now, we don support cheating, but if you want a Celebi that badly, give it a try! Remember: this only works on Pokémon Crystal.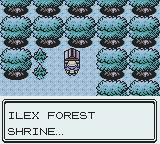 Here is the code:
914089DA to make Kurt take the ball even if you don't have one.
917089DA to make Kurt give the ball back even if he never took it in the first place.
Next, you need to go and take the GS Ball to the shrine in the Ilex Forest.
Page written by Psythor.

Digg this! |

del.icio.us |

Reddit |

Stumble Upon |

Facebook

Tags: None!




COMMENTS

I need a gameshark. -_-;;; i didn't know you could be a girl on g/s/c Just in Crystal... Where were you when Pokemon was in its glory days, gpig? =o Must...buy....gameshark I used to have a working Gameshark, but it broke... Cheap thing. Now I have another one but it freezes when I try to use it with my Crystal Version... a certain teru sama in gold and silver had its data rplaced with the GS ball in crystal so it can be hacked with a Gameshark or similar device. for those of you who don't know what a teru sama is it is a placeholder for items in G/S/C to prevent the game from crashing if someone such as a Gameshark Hacker hacks an item that doen't exist.



MEMBERS ONLY!




Registered Users

If you're already registered, sign in by clicking here.

Unregistered Users

What? You're not registered! You're missing out! Registered users can post on the forums, submit nicknames for rating, send in your fanfics, and you can even change the way the site looks and feels! There's loads more too. Register and find out, we can't be bothered with telling you, we've got an interactive site to make! Oh, it's free too.