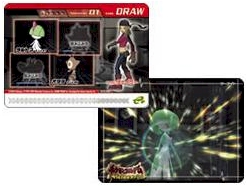 On Christmas Day this year, Japan will get some new e-cards. These arn't just you're normal e-card lark, these work with Pokémon Colosseum!
Incidentally, it'll be the 2003rd anniversary of the (allegedly) birth of Jesus.
The set of cards will contain 24 cards- twenty of which are trainers to fight, and four are "stage" cards. Each trainer has four Pokémon- but only two are known to you. (Well, the other two are sillohettes).
Of course, the best bit must be that all the Pokémon on the card can be caught, by you, for use on your Game Boy game! Just go into the e-card section (room?) and a "training simulation" (vaguely like in the Matrix) style thing will occur. Pictures of this can be seen below.
Thanks to Jelmer for telling me and the official Japanese site for the pictures!
Page written by Psythor.

Digg this! |

del.icio.us |

Reddit |

Stumble Upon |

Facebook
Tags: None!
COMMENTS
There are currently 0 comments on this story... you could be first!