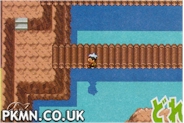 Pokémon for Game Boy Advance has had its first proper unveiling. On Thursday, March 14th 2002 (UK time), on the same day of the Xbox release, Nintendo released three screenshots of the next best game ever!
There is not much information on the game at the moment, but please click some of the links to find out what we do know.
Here is some other random information:
In place of a bike, or perhaps to run along side the bike item (no pun intended)- you can get running shoes that will make you run faster!
It appears that you will be able to be interviewed for the radio and select your own answers from a selection - looks like Mary isn't out of a job, then.
It seems that there will be two new groups of villains- Team Aqua and Team Magma - they will be searching for Kaiorga and Groudon respectively.
Groudon will live underground the new world of Houen and Kaiorga lives under the sea.
It now looks as if Proffessor Oak and Earl will NOT be in these games!
The Elite Four will remain- whether the line up will remain the same is still open to speculation.
In the same way that Mr Spock has an extra third ear (the final front-ear), your "pack" will have an extra pocket- this time for berries!
Your will have two Pokémon lists made up of the same six Pokémon. On one, you choose one Pokémon to have come out first like the first games, and the other you pick two Pokémon to come out first- for the 2 vs 2 battles.
A Pokémon's "characteristic" will effect the battle- a fishskinned Pokémon would give damage back to a Pokémon using tackle for obvious reasons.
There will be 5 "contests" for Pokémon in these criteria: Appearance, Beauty, Cuteness, Wisdom, and Strength.
The new world's Japanese name is "Howen".
There will be no "into battle" animations as in Crystal, but there will still be shaking and other battle animations.
The title screen features the male trainer on a bike under the logo and then Latios flies by.
For each Pokémon's status, there is a "characteristic" option, where for Sameharder, it states that you got it by having a "naughty characteristic"- does this mean different things will happen depending on how you play out your role in the game?
There is definately at least eight badges to earn in these games.
The two versions of the game will be called Pokémon Ruby and Pokémon Sapphire. A third version is unconfirmed.
2 vs 2 Pokémon Simultaneous battles will take place when there are two trainers to fight.
Towns will have different styles to them depending on where they are.
It will be out in Japan by the end of the year.
It might be out in the USA by the end of the year.
It probably won't be out in Europe until the cows come home(!)
There is a new trainer, who following the trend, looks progressively "cooler" than previous trainers.
There will now be total of 351 Pokémon.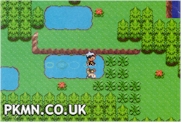 Well, not much is it? But day by day we will learn more, and you can guarantee that Pokémon UK will have the information as soon as possible.
Remember to check out other pages of information on the list above (yes, we do know a little bit more).
If you're the kind of person who likes looking to the future and thinking to yourself "I wonder what the box to Pokémon Ruby and Sapphire will be like?" then you may like this page!
Page written by Psythor.

Digg this! |

del.icio.us |

Reddit |

Stumble Upon |

Facebook
Tags: None!
COMMENTS
There are currently 0 comments on this story... you could be first!