Look at that. That is Pokémon for Game Boy Advance! Doesn't it look lovely? I know you're looking at it now, possibly a bit disappointed that it doesn't look that good. It'll grow on you. Trust me, I found this last night (at time of writing) and didn't like 'em, now I think it looks great! On the bright side of things, these somewhat lower niceness graphics could mean they can fit a lot more data on a cartridge... such as the 386 Pokémon, a massive world and lovely battle scenes. Let's hope.
Interesting things to note in the top picture:
Shadow in the water
What appears to be the trainer going up a mountain via a series of bridges. Perhaps a waterfall is further up?
The cool trainer, with the hair of a fifty year old.
Realistic looking water.
Shadows on all objects aswell.
The stairs do not look quite right...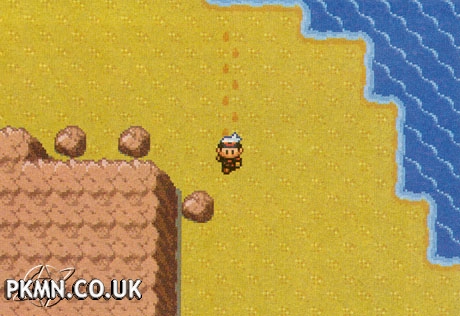 Look! A lovely beach scene. This reminds me of the top of Cianwood City because of the rocksmash boulders and the chunk of mountain. This screens a little bit boring I suppose but look at those little footprints! The water is of a different type also.
Interesting things to notice:
The boulders
The water
The beach
The chunk of rock/outside of a cave
This shot isn't really as thrilling.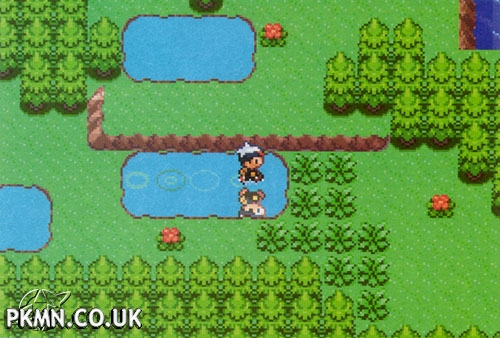 This is familiar territory. This to me, looks like a cross between the Pokémon Gold and Silver we all love, and the Zelda Oracle games, also for Game Boy Color.
Things to notice:
The little guy has a reflection!
He can walk through water!
The waves spreading out behind him! Talk about detail!
Those flowers, they must be something significant because they are more prominent than the little 3 frame animated ones that were tiny is the chromatics and metallics.
The trees look more alive!
Those little bushes look remarkably like those things in Zelda that you can't pass without a sword, and have rupees and hearts underneath. It begs the question: can the little trainer guy walk over them?
At the top right is the standard watery bit with a bit more colour. Can't someone please draw a bottom for them!
Here's some food for thought: Are the puddles of water that the trainer can walk in there because it has rained recently in the game? Would this mean the introduction of a weather system? I hope so!
Page written by Psythor.

Digg this! |

del.icio.us |

Reddit |

Stumble Upon |

Facebook

Tags: None!




COMMENTS

H?