On the 28th March 2002 Pokémon fans got their first glimpse of what the Pokédex in Pokémon GBA looks like.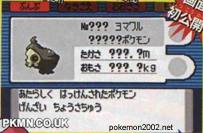 Interestingly, they've kept the numbers and heights and weights of Pokémon secret!
Page written by Psythor.

Digg this! |

del.icio.us |

Reddit |

Stumble Upon |

Facebook

Tags: None!




COMMENTS

Duskull Ht. 2'07" Wt. 33.1LBs. Soz its not in metric... oh i forgot. its no. 355 in the national pokedex translate japanise words before showing please! ya rly wat he said...