So far, only 3 screenshots of town areas have been released:
This appears to be a more traditional town- it also implies that the new towns will be much larger and to proportion of the characters. Look at the shadow!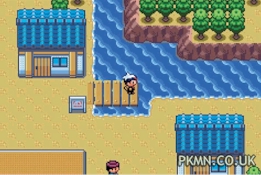 This lovely scene is on a beach. Very interesting I'd say.
If you look at our gallery here you can see the first town screenshot- it appears to be a lot more traditional than the other two.
UPDATED! 26/08/02!
Above is another screenshot of a town. If anyone can translate the Japanese on the screen for us, it'd be appreciated.
Page written by Psythor.

Digg this! |

del.icio.us |

Reddit |

Stumble Upon |

Facebook

Tags: None!




COMMENTS

HELLO? It needs to be updated 21/08/07! big city=Rustboro City. beach town=Dewford Town