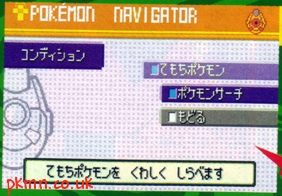 It's time to put down your PokéGear and get the latest gadget - the Pokémon Navigator.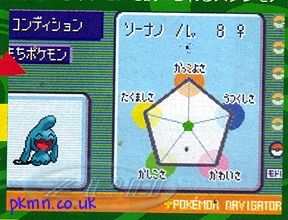 Similar to the PokéGear in its purpose, the Pokémon Navigator keeps track of your Pokémon. This page giving you vital information and statistics related to contests. This screenshot appears to give information on your Pokémon (Wynaut in the screenshot) in the form of a pentagon-shaped graph, each corner of the pentagon representing a different type of contest statistic.
This screen again shows us the new contest stat/information page - this is certainly a major improvement as it is much easier to understand information in a graphical format; especially for those of us who are too lazy to read and work it out ourselves.
This final screenshot is still a bit mysterious; although it looks incredibly similar to a page from the new Pokédex, it may still be a function of the Pokémon Navigator. Little information is currently known, and, as always, we'll keep you posted.
Page written by Psythor.

Digg this! |

del.icio.us |

Reddit |

Stumble Upon |

Facebook

Tags: None!




COMMENTS

need to get closer to runners!(latios!) cant we have english in this world dont you think?????what is your race "deutch burgundy!!!!!!!!!" (in response to above guy)