Well, you've seen Team Aqua, now check out Team Magma. These villains are searching underneath Houen for Groudon.
With Pokémon Ruby, you'll end up fighting them for some reason.
Their symbol is, suitingly, an "M" and their aim is to get rid of seas throughout the world. Frightening.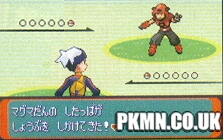 Page written by Psythor.

Digg this! |

del.icio.us |

Reddit |

Stumble Upon |

Facebook

Tags: None!




COMMENTS

oh, leave off! No!