IGN have revealed an amazing new feature for Pokémon Ruby and Sapphire- E-reader compatibility!

When you buy a copy of Ruby or Sapphire, you will recieve a free e-reader card. However, these are not TCG cards- they contain a trainer!

When you've got two GBA's hooked up, swipe the card and from the main menu on your Pokémon Ruby or Sapphire game, select "Mystery Event", and a battle will begin with the trainer on the card.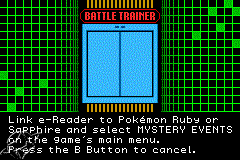 The card will be different depending on which game you buy- it will either be Gentleman Nils for Ruby Players, or Lady Astrid for Sapphire players.

As of yet, we do not know what sort of effect this will have on the main game- will it train up your Pokémon? Is it like a Stadium battle? Why do I see dead people?

Anyway, the potential of this seems to be endless and could keep people playing for years to come. Who knows, these cards could unlock the missing old Pokémon.

Update 13th May 2003

Another card has been revealed via a very bad quality picture in a Japanese magazine...
As you can see, the trainer obviously has is an Electrode and a Ninjask. What we don't know, is everything about the card.
Page written by Psythor.

Digg this! |

del.icio.us |

Reddit |

Stumble Upon |

Facebook

Tags: None!




COMMENTS

Are these available in the UK? LAAlennell I doubt not, I never got the card with my Sapphire me no get card with BAZZER on Ruby (2nd hand, preowned, 360 Games)