Three new UK Trading Card Game tournaments are being held in December (and one today!)- find out all the details by clicking "read more".
This news item is more than 45 days old. Updates are unlikely and newer information may already be available.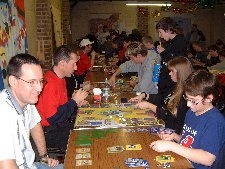 There are three tournaments happening soon, including one TODAY (Sunday), click here for details on that!

On the 6th December, its the 5th South East challenge- including over 60 players, it looks like its going to be massive. Find out about it here.

Finally, on the 13th December there's a tournament in London. Click here for more.

They look like they're going to be great- unfortunately, official PUK representation can't make it to any of them, as I can't drive. However, if you go, spread some propaganda on PUK's behalf, please!

Digg this! |

del.icio.us |

Reddit |

Stumble Upon |

Facebook

Related news items




COMMENTS

Perfect time to Battle And destroy the dreams of other players !!! Where's the text??? Oh...NOW it appears, AFTER I've posted...damn



MEMBERS ONLY!




Registered Users

If you're already registered, sign in by clicking here.

Unregistered Users

What? You're not registered! You're missing out! Registered users can post on the forums, submit nicknames for rating, send in your fanfics, and you can even change the way the site looks and feels! There's loads more too. Register and find out, we can't be bothered with telling you, we've got an interactive site to make! Oh, it's free too.