Mew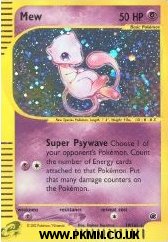 Set: Expedition (19/165)
Rarity: Rare Holofoil
Type:


Weakness:


Stage: 0
Level: 0
HP: 50
Retreat: 1 Energy

Attack: Super Psywave




Choose 1 of your opponent's Pokémon. Count the number of Energy cards attached to that Pokémon. Put that many damage counters on the Pokémon.
Seems like we know more about this... 'thing'!
COMMENTS
There are currently 0 comments on this story... you could be first!