It's been asked on the forums loads of times. It's one of those questions that seem to pop up everywhere: Where can you find those 3 Legendary Dogs in FireRed and LeafGreen? Raikou, Entei and Suicune?

The answer is so simple this must be one of my smallest ever pages. Once you've beaten the Elite Four and obtained your National Dex from Professor Oak (catch 60 different Pokemon), one of the Legendary Dogs will be released into the game and will appear randomly around Kanto - rather like they did in GSC. Only one dog will appear per game, and it depends entirely upon something you've probably forgotten about by now - the Pokemon you chose ages and ages and ages ago at the beginning of the game affects which Dog you get: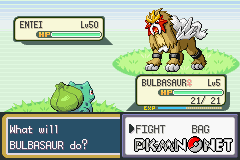 If you chose Bulbasaur at the beginning, Entei will appear.
If you chose Charmander at the beginning, Suicune will appear.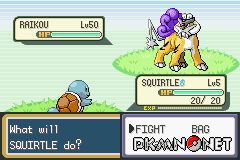 If you chose Squirtle at the beginning, Raikou will appear.
There you go. It's easier than getting points off Arsenal when you're Manchester United. Of course, the hard part is finding and catching your beast. You could always use your Master Ball (which I'd recommend - Mewtwo isn't as hard as you'd think), but for help in catching and finding your Dog anyway, click here!
Page written by Psythor.
Digg this! |

del.icio.us |
Reddit |

Stumble Upon |

Facebook

Tags: None!




COMMENTS

cool lol bulbasaur vs entei awsome then i get entei!!! HORRY!!! i also want suicune and raikou, well...it just creeps me out just by looking at it!! AHHHH!!! i also whant suicune, but for raikou, well... it just creeps me out just by looking at it...AHHHHH!!!!