Here are the first ever pictures from inside a Pokémon Centre.
This is the downstairs of the centre- there appears to be not much new, except it looks a lot prettier.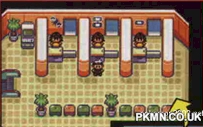 This is the upstairs of the centre. Notice how there is only three bays- meaning that unless there is a new battle option a time capsule (or whatever they call it) is present- so you can import all of your RBY/GSC Pokémon. No mystery gift, also.
We also have a picture of the insides of what looks like a Florist's similar to that one in Goldenrod City:
Updated 2nd November 2002:
Above is a picture of what looks like some sort of lab. Below is a house in the trees- this should certainly be interesting.
Page written by Psythor.
Digg this! |

del.icio.us |
Reddit |

Stumble Upon |

Facebook

Tags: Beta




COMMENTS

i dont get it