Mayhem assured.

Okay, so it's not exactly Pokémon! But it's the best game on the Gamecube game ever!

The following Pokémon characters are playable:
Pikachu
Mewtwo
Pichu
Jigglypuff
Also the following Pokémon pop out the Pokéballs: (the ones I've seen anyway!)
Scizor
Snorlax
Staryu
Charizard
Wobbuffet
Hitmonlee
Chansey
Togepi
Blastoise
Also the following Pokémon are trophies (Again the ones I have seen!)
Cyndaquil
Ditto
Jigglypuff
Staryu
Pikachu
Bulbasaur
Misty
Blastoise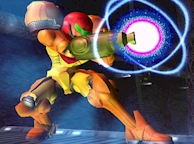 Samus powers up!
Also there is a Pokémon Stadium battle ground. So there is are not many Pokémon things in it, but if you have got a Gamecube and like Pokémon, this is a must for you! But remember it's not all Pokémon! I think to really like the game you have had to have at least one Nintendo console before the Gamecube. To know all the characters and what games they are in. The graphics are the best you can ever get and the sound is a treat for the ears. And there was a lot of come back value in the last one (super smash brothers) so hopefully there will be much more to offer in this one. And it's easy to learn how to do things such as smash attack and special attacks. Here is an example of Pikachu's special moves skull bash, thunder shock, thunder and quick attack. And that's just using the B button and the control stick! So imagine the combos you could do when using the buttons together or in turn! And if you're still stuck on what to do there is a in game tutorial.
Buy the way if you have been reading through my review and don�t know what the hell I'm going on about, I will explain. Super smash brothers was originally a fighting game for the Nintendo 64. But it was like no other fighter since it starred Nintendo's most famous characters such as Pikachu and Mario. But it got the award for best fighter on the Nintendo 64. So naturally a sequel was demanded! The creators were originally going to bring the sequel out on the Nintendo 64. But when the creators heard of the Nintendo Gamecube, they decided to bring it out on the Gamecube. Some people were happy with the decision. And some people were not so happy! Because of the excitement of an N64 release. Nintendo was pressured with bringing out a kick ass sequel, since we have had to wait a little longer for a release. And with Nintendo]s Gamecube news rising, a sequel was to be made. Thus 1 and half years ago a couple of not so good screen shots were released! But excitement rose! Now Nintendo were really pressured. So one year ago at E3 (the biggest gaming show in the entire world!) the developers had a playable version of super smash brothers melee! And they had done it! They did what some developers couldn't! Bring out a highly successful game sequel. And It is a fighting game, which some people don't like! But that did not matter! Many people were attracted by the cuteness of the game! Also it attracted Pokémon fans! (That's why you are reading this now!) So now you know all about the Pokémon bit and the history of the game! Well that is it! That's all I know! I give the game 10 out of ten! For more on the non Pokémon info go to www.supersmashbrothers.com. But apart from that this is a good game, and easy to get the hang of, so enjoy playing it if you are planning on getting it!
By Donkey.
Page written by Psythor.
Digg this! |

del.icio.us |
Reddit |

Stumble Upon |

Facebook

Tags: None!




COMMENTS

Hitmonlee isn't in a pokeball...