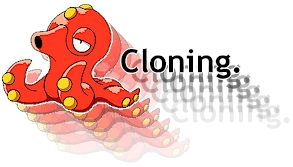 Did you know that anyone who feels like cheating on their Gold and Silver game and ruining the experience can duplicate Pokémon?

Yes, that's right, make an exact copy of one Pokémon, so you have two identical one.

Below are instructions on how to do it, which Cooltrainer posted on the forums.
Save in front of the computer in any Pokémon centre.
Access Bill's PC and deposit the Pokémon you wish to clone.
Go to change box.
When it prompts you to save your game, do so but...
Just after it says "SAVING DO NOT TURN OFF THE PO..." do the most ironic thing and turn off the power.
Turn your Game Boy back on and load your game.
If executed correctly, the same Pokémon will be in a box, and in your party.
Tip: You might want to try it out with Caterpie's and Pidgey's first so you don't get sad when Charizard dissappears into nothing.
Note: This trick does not work on Pokémon Crystal- try it and you could end up with no Pokémon at all!
Also note: PKMN.NET, its staff and its members accept no responsibility if you mess it up and your save gets deleted or something.
Page written by Psythor.

Digg this! |

del.icio.us |

Reddit |

Stumble Upon |

Facebook

Tags: None!




COMMENTS

I hate you too this works on crystal - trust me ive tried it. but the catch is u need 2 deposit the poke u want 2 clone into an empty box. And cloning returned in Emerald... *OH BLISS!!!* this works on crystal.. ha i think i broke mine cause i got rare pokemon in box 8 after doing it like 20+ times. they didn't have names and were at level 0. This is pretty risky. I'd only do it once to see what it's like. I should have done this when I had a Level 96 Aerodactyl, a Level 100 Tyranitar and a Level 100 Feraligatr. This is awesome! I didn't know you could do this. I tried depositing the shiny gyarados and later on I saw the pic. of gyrados but when in battle it is politoad @ Arvy_pk I think something went wrong when you cloned your gyrados.


I always cloned my Pokemons in this game and never had any problems like when I clone a Pikachu or Butterfree, and when I look at the status it shows the Pokemon I clones, and nothing weird happens in battle mode.

Sorry for the confusion, I confused myself, writing that