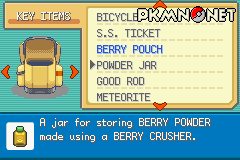 Let me guess, you've heard berries aren't in FR/LG? Or you've heard they are there but are useless?
Wrong and wrong. Berries ARE in the game, but just don't grow repeatedly on trees, only to catch a bug after a year. Also, berries DO have a fun and rather interesting use. Enter, Berry Crushing.
To start off, you'll need to find some berries. You'll be able to find them mainly through wild Pokemon, but the easiest way to find them early on in the game is on the SS Anne. Work your way to the Kitchen (pictured) and look in all three bins on the far right. You'll find a different berry in each, and they'll go directly into the Berry Pouch of your backpack.
Now, once you've actually got a berry or two (or three, even) you'll be able to get the Key Item needed to crush the berries. Go to the pictured house in Cerulean City (just above the Pokemon Centre) and tell the man in there that you do have an interest in berries (rather amusingly, if you tell him you do but aren't carrying any berries at the time, he'll call you a liar). He'll then present you with the Powder Jar.
Now, in order to Berry Crush you'll need to visit any Union Room in the game using the Wireless Adaptor. The way you do it is exactly like the Pokéblock Blending in R/S – simply pressing A at the relevant time to make the little hand move faster and faster, thus Crushing finer Berry Powder. The better and faster you crush the berry, the more points the Berry Powder will be worth.
"But what's the point of Berry Powder having high points," you say? Well, go back to the man in Cerulean City who gave you the Powder Jar, and he'll offer you a variety of items to trade your Berry Powder for – a bit like Buena's Password thing in Crystal. The items available and the points needed are:



| | | |
| --- | --- | --- |
| Image | Item | Points Needed |
| | Energypowder | 50 |
| | Heal Powder | 50 |
| | Energy Root | 80 |
| | Revival Herb | 300 |
| | Protein | 1000 |
| | Iron | 1000 |
| | Carbos | 1000 |
| | Calcium | 1000 |
| | Zinc | 1000 |
| | HP Up | 1000 |
| | PP Up | 1000 |
Page written by Psythor.

Digg this! |

del.icio.us |

Reddit |

Stumble Upon |

Facebook
Tags: None!
COMMENTS
There are currently 0 comments on this story... you could be first!