1
« on: September 02, 2020, 16:53 »
Do you mean that red port on the far right? If so, I've wondered what that was for a while!
Edit: As it turns out, my speakers are plugged into that one. I only noticed it on the picture when I saw it on Amazon. My dad was the one who put my pc together. That's why I didn't know.



My keyboard only supports 6.35mm, so I'll have to get a cable like this.

First of all, if you want to save some money and you already have a 3.5mm to 3.5mm cable (They often come with wireless headphones if you have any of those lying around) you can use one of these:
https://www.gak.co.uk/en/lynx-gold-plated-headphone-adaptor-3-5mm-stereo-jack-to-6-35mm-/924996
You just screw it on the end of the 3.5mm and you can plug it into your keyboard.
As for your Line in/Line out...that's a bit confusing. Red normally is the line in, and green will be the line out...You've probably seen it on loads of desktop PCs. This pic might help you figure it out: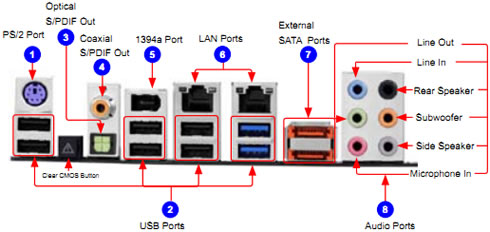 For what it's worth, this isn't a strict guide on where things should go. Give or take a few differences, most of those 3.5mm ports on your PC are pretty much the same. If I were you I'd just try plugging your keyboard into all of them, chances are your sound card software will pop up on your PC when you do to inform you that you just plugged something in. From there you should be able to figure out which one is the correct port to plug it into (It'll probably pop up and tell you that something is plugged into the microphone in or something to that effect).